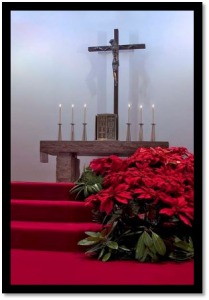 If you are seeking a timeless and vibrant expression of faith, with beautiful liturgy and music and biblical preaching in a traditional Christian worship service, St. Ann Chapel Anglican Church might be the place for you.
Our parish is part of the Anglican Province of Christ the King, a traditional Anglican jurisdiction established in 1977. Our beliefs are scriptural and are encapsulated in the Nicene and Apostles' Creeds. Because St. Ann is a sacramental church, it expresses our worship through a liturgy in the celebration of the Eucharist. The text of our services comes from the 1928 Book of Common Prayer. Our small professional choir lends weight to our songs and chants and fills our chapel with the glorious sound of praise.
We hope that you enjoy exploring our website and that you will visit us on a Sunday so that we can welcome you in person.